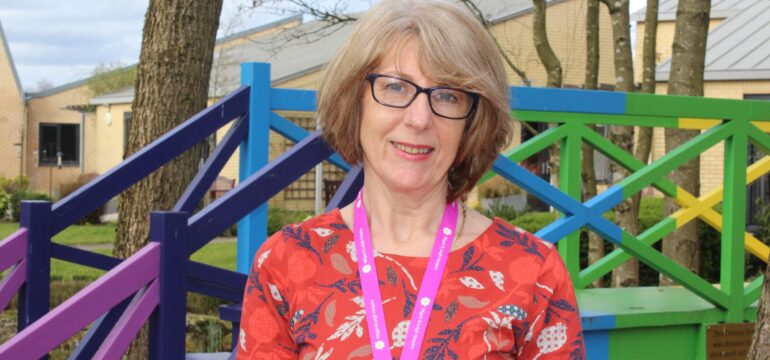 Elaine is a member of a team which consists of three clinical secretaries. She came to the hospice in 2014 after working in the NHS.
A Day in the Life of Elaine
8.30am I arrive at the hospice and login to my computer. Referrals take priority over everything else so my first task is to open NHS.net. All referrals for hospice services including the inpatient unit, Hospice in your Home, the Hospice Nurse Specialists (HNS) and Hospice in your Care Home (Practice Development team) come through that email system, together with medical information such as GP correspondence and hospital letters.
Phone calls begin almost straight away and we are always busy throughout the day answering calls from patients, their carers and district nurses. All calls are recorded and passed onto the relevant nurse.
9.15am until 11am I take the minutes for a MDT (Multi-Disciplinary Team) meeting held every day to discuss individual patients and referrals to the Inpatient Unit.
11am I take the post down to reception.
A worried patient
11.15am I take a call from a patient who is worried about some symptoms. You need good communication skills in this job as often people will call who are upset or anxious.
11.30am I type out discharge letters for patients who no longer need our services and continue to take phone calls. A referral comes through for the inpatient unit and I give that my immediate attention.
12.30pm Lunch
"This is the best job and you feel that you are helping people – the HNS team say they couldn't function without us. My dad died at the hospice so I have experienced the hospice both as a relative and a member of staff. It's only when you experience the care yourself you appreciate what they do."
Multi-tasking
1pm A lot of time is spent multi-tasking: updating medical records, taking calls and typing out letters. This afternoon I issued assessment letters to patients, their GPs and district nurses on behalf of the community nursing teams. I also typed letters and forms for the Department of Work and Pensions to support patients who are undergoing a review of their benefits.
4.30pm End of the day