No one knows what the future holds and making a will is a really practical way that you can help ensure your wishes are known and that your loved ones and favourite charities are looked after.
We run an annual Free Will Months every November when local solicitors kindly donate their time and services to help you create your Will.
If you choose to write your will through Free Wills Month we hope you'll consider leaving a gift in your will to the hospice, although there is no obligation to do so.
We are very lucky to be supported by people happy to support us year round when it comes to making your Will.
Remember us - how you can help the hospice
...It's so easy!
You need our charity number 513400
You need our name
That's it! Then all you need to do is decide on the type and size of gift
Many people don't realise how vital gifts in wills are to local charities and here at Wigan and Leigh Hospice we simply wouldn't have been able to develop and maintain our clinical services without the donations we have received in the wills of our local supporters over the years.
The gift in your will can be big or small – we appreciate every single penny, and this will help us to continue to provide hospice services free of charge to patients, their families and carers.
You can leave 1% to the hospice and 99% to those closest to you - every gift helps.
"I wish I could do more right now but I can't. Doing this is my little way of knowing I'll be helping even when I'm no longer there." - Cecelia
Making a will
Making a will can be a lot more affordable and straightforward than you may think. It's not complicated to make a will, though it's easier with the help of a professional. We suggest talking to a solicitor, or a professional will-writer. You can find a solicitor via the Law Society's website or you can make contact with a professional will-writer via the Institute of Professional Will-Writers.
Any questions?
If you're considering leaving a gift in your will to Wigan and Leigh Hospice and you'd like to find out more information about how this works or need any support please give us a call.
Sophie or Christine will be happy to talk to you on 01942 525566 or e-mail us: info@wlh.org.uk.
Find out more about how your support helps
Why I'm leaving a gift in my Will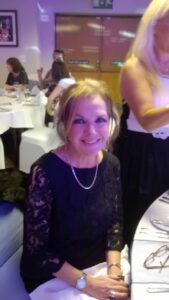 Cecilia Goubert
Cecelia has pledged to leave a gift in her will to the hospice as thanks for supporting her when her beloved husband Arthur died in 2015.
Arthur was due to go into the Hospice but died in The Christie before he could get there.
Cecelia said: "Someone from the hospice mentioned counselling and I just poured my heart out to Lucy and we did hours of counselling. I thought the people supporting me most after Arthur's death would be my family but instead it was the Hospice. I want to support the Hospice because the Hospice was my family – it was there for me – from my counsellor to the people behind reception and I can't ever forget that.

"By supporting the hospice you are not only helping the patients but their loved ones too – those people who have been left behind. My story is the survivor's story. I was very much on my own, I thought 'how am I going to do this?' but they were there supporting me. What's available at the hospice is so valuable, it's so incredible this place that makes you feel as though you are at home.

"I wish I could do more right now but I can't. Doing this is my little way of knowing I'll be helping even when I'm no longer there."
John and Christine Taylor