How to donate in memory of a loved one
Remember a loved one by dedicating a beautiful daisy in their memory. Your daisy will be inscribed and placed in our special Trivedi Garden within our gardens or you can take it home with you straight away.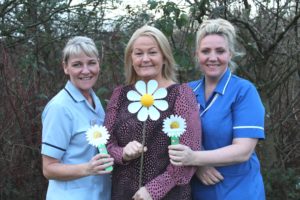 Light for a Life
At Wigan and Leigh Hospice we run our annual Light for a Life appeal from October until the twelfth night after Christmas. Every year thousands of people choose to remember their loved one by dedicating a light on our beautiful tree.
Creating on online In Memory page
You can create an in memory page on JustGiving where you can tell the story of the person you're remembering using words, photos and video and explain why you're raising money in their memory. Your friends and family can give to your page easily, safely and securely, wherever and whenever they want to. Together you can create a lasting tribute in memory of your loved one.
Come and see us
You are welcome to come and make a donation in person at the hospice in memory of your loved one. Someone will be able to help you Monday to Friday between 8.30am and 4.30pm (4pm on Fridays).
For further information see our page on organising a funeral collection.