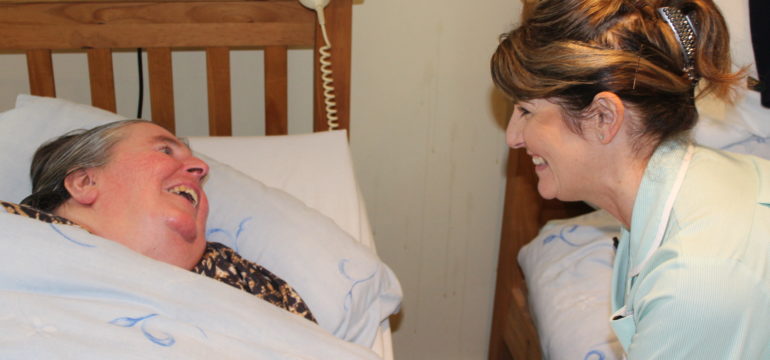 Helen from Leigh has multiple sclerosis (MS) and first came into contact with the hospice in 2008 when she came to the day hospice. She came into contact with us again in October 2016 when she stayed on the Inpatient Unit so staff could bring her symptoms under control.
Since then she has had regular home visits from the Hospice In Your Home community nursing team who provide support or give her a hand massage and offer her husband of over 40 years, David, a carer break.
Mum to John and James, Helen found out in her early 40s that she had MS, a condition which affects the nerves. Symptoms might include fatigue, vision problems or difficulties with walking, but MS is different for everyone. Helen also has Neuralgia which is a severe pain and is linked to MS.
She is keen to help people understand that hospices are not just for people with cancer and that they are not only there for people in the last few days of life.
Helen said: "I had toothache and went to the dentist and he said he thought I had neuralgia, which I'd never heard of, but of course he was right.
"I went to the GP started going up to my cheek and it was a white-hot pain and he said it might be MS."
Helen describes the pain as 'coming and going with no warning' over the years but now it is progressive and permanent.
She is well cared for at home by David and loves listening to audio books of classic literature, such as Jane Austen.