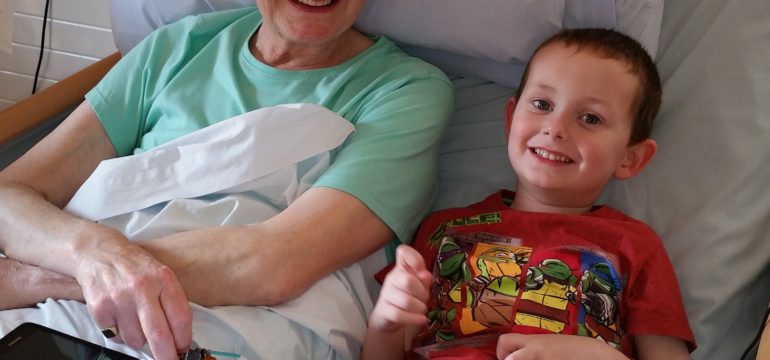 Helen came into contact with the hospice in 2015 when her husband Max was admitted as an inpatient.
Max had been diagnosed with prostate cancer and was cared for by the Hospice Nurse Specialists at home as his illness progressed. After developing spinal cord compression he was admitted to the hospice as an inpatient over six weeks in November and December 2015. Helen said: "The hospice did so much for Max – he had physiotherapy every day with different exercises, he had counselling as did myself and our son, he experienced the complementary therapy and even attended a craft session."
It was suggested Max try counselling as he was finding it difficult to accept his prognosis.
Helen and their son known as Little Max, also had counselling with hospice Counsellor Julia Sixsmith to help them come to terms with Max's diagnosis and the impact on all their lives.
Helen said: "Max couldn't accept he was dying and it was difficult for all of us but he saw Julia a number of times and they had a bit of a chat. He wasn't talking to anyone but talking to her helped. He got upset in front of her and never did that with anyone else.
"I also saw Julia for a long time. I still get upset but Julia really helped me and made a huge difference to me and my family."
Once Max was discharged he was visited at home by the Hospice in Your Home team a few times a week until he sadly passed away in February 2016 with his wife and son by his bedside.
Both Little Max and Helen received counselling at the hospice until they each felt they were ready to stop.