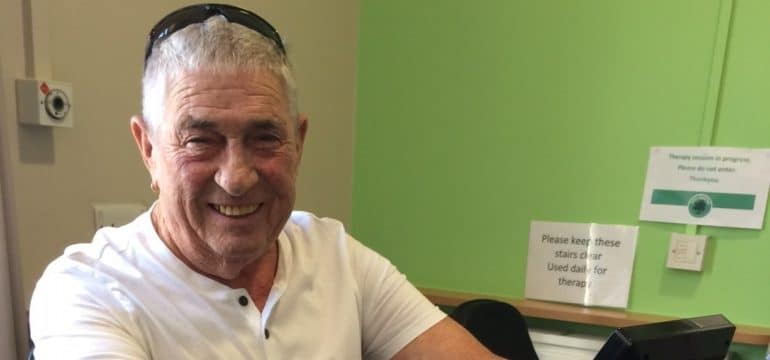 Great-grandad Roy, 72, lives in Hindley Green and has been attending the Oak Centre since October 2018.
Roy, a former player for Ince Amateur Rugby League Club stopped smoking in May 2018 after starting at 16 years old. A few weeks after quitting he found he had pains in his chest.
"Within two weeks of stopping I went to the doctor because my chest felt bad," he said. "The doctor agreed I had a rattle and the next day I was worse – I felt tightness and couldn't breathe so I told my wife to ring for an ambulance. We went up to hospital and they saw me straight away and were brilliant. From then for a few months I was in hospital once a week."
Roy's diagnosis
It was discovered that Roy had lung disease COPD and lung condition emphysema.
Up until then Roy had been working into his seventies as a machine driver. His diagnosis meant he was forced to retire.
Roy found out about the Oak Centre* at a COPD clinic.
He said: "Joanne from the clinic knew what I was going to say when she suggested I go to the hospice but she told me it wasn't what I thought. I said when I think of a hospice it means you go in and don't come out. But she told me there are classes and you can talk to people so I thought I'd give it a go."
The Oak Centre
Roy has found he loves the social side of the Oak Centre and had found himself taking part in things he never thought he would.
"I started coming about eight months ago and I enjoy chatting to other people, the exercises are really helping too. I've tried aromatherapy and that was brilliant – I don't have cramp in my toes any longer and it was so relaxing I fell asleep. I wouldn't have got involved in anything like this years ago but I couldn't stay like I was – what's the point in sitting in the house staring at four walls all day?"
There have also been positive changes in Roy's physical state since he started attending the Oak Centre. He has one-to-one physiotherapy, attends tai chi and takes part in chair-based exercises at the centre on a regular basis.
He said: "Before I came to the Oak Centre I couldn't even walk up my own driveway – I couldn't even get out of the front door – but I can do that now.
"I move better and I can walk a lot further since starting the exercises. Every session I have it helps a little bit more.
"I used to be so active when I was younger, now I'm doing all these exercises and it's helping me to get active again, but I also feel more chilled out and able to cope better with my illness."
His own song
Roy has also found himself working with a local singer-songwriter through the Oak Centre. Bob Kettle has written a song with Roy just for him. It will be recorded in a professional studio and will be Roy's to keep.
*The Oak Centre closed in December 2020