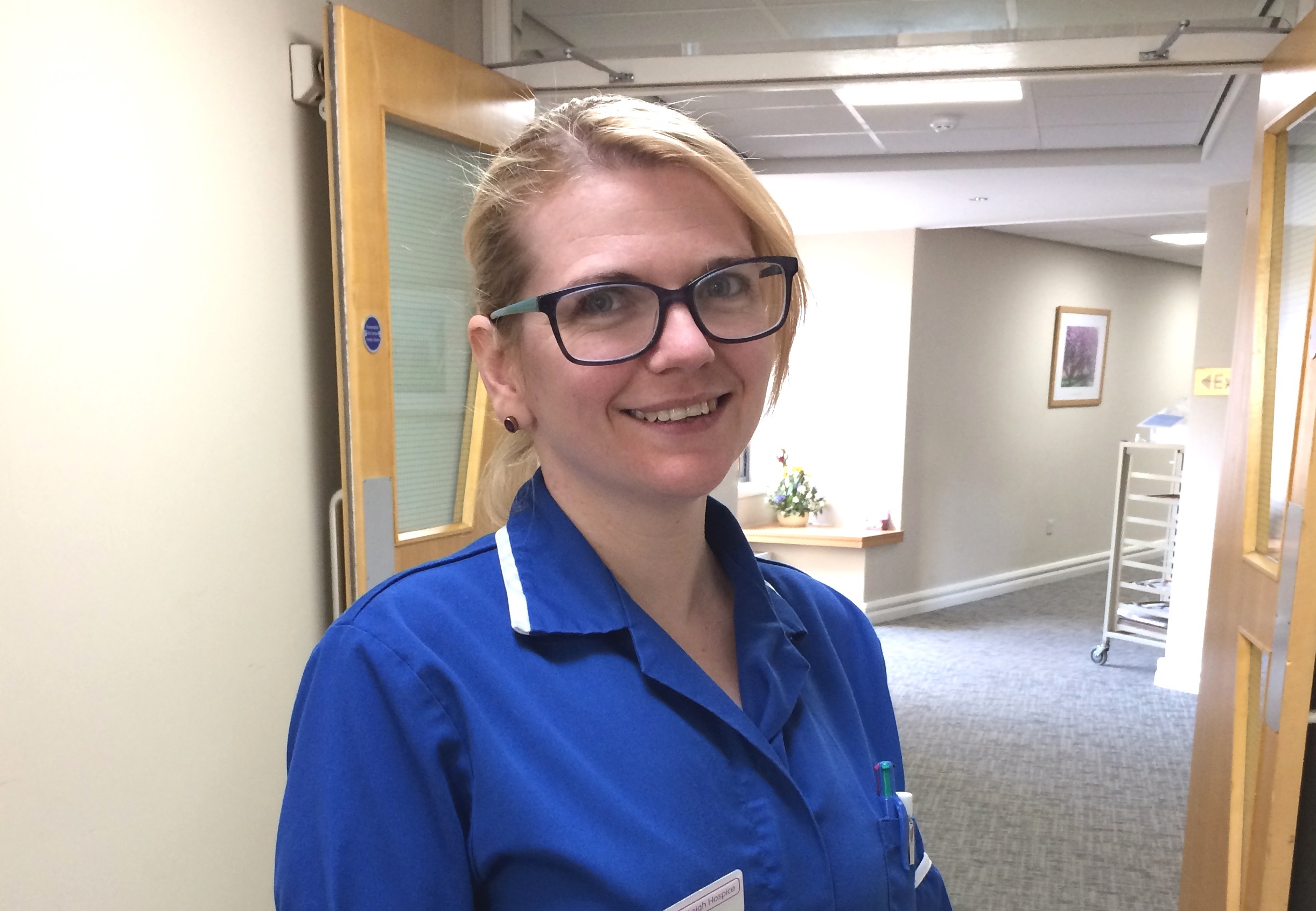 MANY families and relatives in the Borough will recognise Sarah Edwards who has worked on the Inpatient Unit at Wigan and Leigh Hospice for just over eight years.
Sarah started work at the hospice in Hindley as a Staff Nurse on February 13th, 2012, after spending 12 weeks with the hospice as a student on placement.
Patient-focused
She said: "I'd worked in other environments but when I came to the hospice I felt really well supported and I liked that everyone worked as a team. I also liked that it was patient-focused care – the patient always came first – and I enjoyed making a difference."
She says people often think hospice nurses care only for the dying and don't realise the role is far more complex.
"When I tell people I'm a hospice nurse they say 'I don't know how you do that'," said Sarah. "There's a perception that we just do end of life care and it's all about dying. There is that, but we also do symptom control, such as managing nausea and breathlessness and we do discharge people home."
Hospice nurses also offer psychological support for patients and families, give personal care – such as feeding and washing – and take care of wounds. Additionally, they are trained in some clinical interventions including administering blood transfusions and IV therapies.
A visit from an owl
Sarah said: "The hospice is a welcoming, friendly place and what makes this place different is the extra bits of love and care and attention. For example, we had an owl visit the ward because a patient loved owls and she was absolutely beaming to have it there. We want to deliver the next level of compassion which means prioritising what is important to the patient above all else.

"When patients make requests we do try to make them happen. One of the most popular requests made is to bring a pet in because they may have been in hospital for several weeks and not seen their pet. We've had a monkey come in, a few horses including a racehorse and lots of dogs. We also do things like making memory boxes or taking handprints for loved ones to keep."
Sarah says although people may think of the hospice as a sad place it offers a lifeline for patients and their loved ones.
Feeling fulfilled
"Some patients are not ready to accept what is happening to them but you do try to make the best of the situation and there are sad times, especially if you have a good connection with someone, or if you can relate to them. We had a lady in who was still young and had young children. She came in with pain and nausea but while she was here we were able to manage her symptoms and she had a week of being pain-free, with no sickness and was able to spend time with her family before dying peacefully. It is fulfilling to know that you have achieved that for someone.

"Providing a good experience for someone at the end of life is so important – it's something that their families will always remember."
Sarah explained what happens when a patient goes into the hospice.
"As soon as they come through the door we take them to the ward and to their bedroom and give them a hot drink and a jug of water," she said. "We show them how to adjust the bed, the television and how to use the buzzer to summon someone if they need help. Then they complete an assessment to find out what they are hoping to achieve when they come in. When patients come here what they generally want is for their symptoms to be managed, to be pain free and some want help with their mobility in the hope they'll be able to go home.
Relief
"Often when patients say they feel relieved to be here because they know we support families with counselling, bereavement and complementary therapy. When you are talking to someone who is dying, their thoughts are often for those they're leaving behind."

She added: "I don't know what I'd do if I didn't do this because I love it. I love caring for patients and being in an environment where relatives can go back to being relatives and not carers. They can come here and their mum becomes their mum again."
Apprenticeship challenge
Sarah will in March 2020 begin an apprenticeship studying Advanced Clinical Practice.
It is the first time that a nurse at the hospice has studied this course and, once she has qualified, she will be the hospice's first Advanced Clinical Practitioner.
She will be studying at the University of Bolton two days a week and working on the Inpatient Unit two days a week. After two years she will come out with a Masters degree and will have developed her skills in palliative and end of life care.
As an Advanced Clinical Practitioner Sarah will be able to take on some of the responsibilities of the hospice doctors.