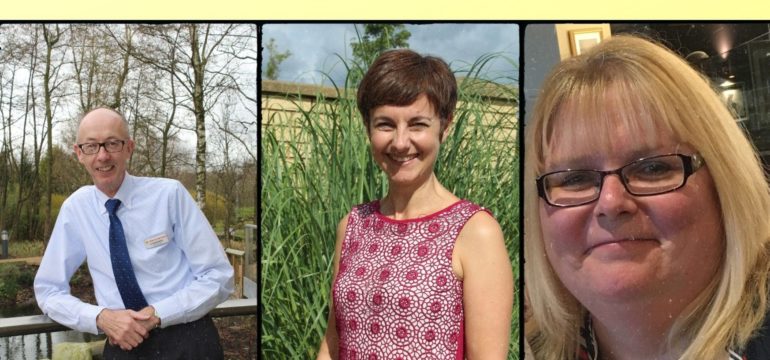 A NEW Chief Executive has begun her role at Wigan and Leigh Hospice today (April 1st) following the retirement of Dr Alan Baron on March 31st.
Jo Carby was previously the Clinical Director at the Hindley-based hospice overseeing all clinical teams – a role she had held since 2015.
Prior to this Jo managed the Community Hospice Nurse Specialists at the hospice which provides and palliative and end of life care for adults.
Dr Baron had worked for the hospice for almost 20 years, joining the hospice in 2001 as Non-Clinical Manager and becoming Chief Executive in 2012.
A staff nurse
Mum-of-two Jo was educated in Nursing Studies at the University of Edinburgh before beginning her career at Western General Hospital in the city where she worked in the oncology and haematology departments as a staff nurse.
She then worked for a couple of years in the city of Ekaterinburg, Russia, as a Voluntary Services Overseas (VSO) volunteer supporting the development of patient services in cancer and palliative care.
Her career in hospices began at St Christopher's Hospice in London before a period as a Community Hospice Nurse Specialist at St Catherine's Hospice in Preston. Jo came to Wigan and Leigh Hospice in 2006.
She said: "It is with honour and humility that I take these first steps into my role as CEO of Wigan and Leigh Hospice. I have worked for this incredible organisation for 14 years now, initially as the Nurse Specialist Team Manager and then as Clinical Director. As Clinical Director, I worked particularly closely with Alan, building on the hospice vision that all people living in our borough with palliative or end of life care needs, and those people important to them, will receive the support that they need at this difficult time in their lives. This aspirational vision can only be achieved through collaboration with our NHS and social care colleagues, and of course the people of Wigan and Leigh.

"This year has been incredibly challenging, both in terms of how we adapt our services to ensure we continue to support those people needing us in a safe and effective way during this pandemic, as well as how we continue to generate income whilst under these national restrictions. I want to thank Alan for his leadership and wisdom over the years and for postponing his retirement when the pandemic hit our shores. We will truly miss him but we will be forever grateful for this fabulous legacy that is Wigan and Leigh Hospice."
Clinical Director
Vicki McLoughlin has joined the hospice as the new Clinical Director.
Vicki comes to the hospice from Salford Royal where she had worked for several years at a senior level with the palliative care teams in the acute, community and care home settings.
She has worked in palliative care for over 20 years in hospitals and hospices both in the UK and abroad.
Vicki said: "I feel very honoured to be the new Clinical Director and want to share my experiences and learn from the teams and help them to continue to deliver the high standard of palliative care the residents of Wigan and Leigh have come to expect and deserve."

Alan said: "It has been a privilege to work at the hospice: to be given the opportunity to meet patients and their relatives and to be a part of such a dedicated and compassionate team. The last year alone has demonstrated the sheer resilience of our staff and volunteers and it has been humbling to see how they have faced the challenges.
"I wish Jo and Vicki all the very best in their new roles."