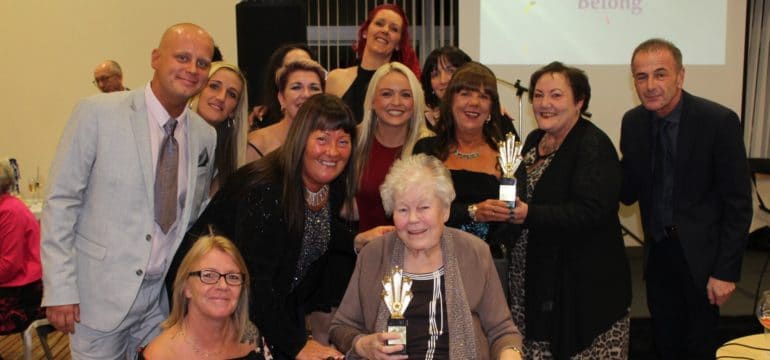 DEDICATED care home staff from across the borough are celebrating after their achievements were recognised at an awards ceremony held by Wigan and Leigh Hospice.
On Friday, October 26th, staff from 11 care homes across Wigan and Leigh attended the ceremony at Leigh Sports Village in the hope of winning in one or more of the 16 categories available.
Staff from all of the nursing homes bought tickets for the event which was organised by the Hospice in your Care Home team.
The ceremony recognises work done by staff in nursing homes both to improve the care they provide for residents at the end of life and to reduce unnecessary hospital admissions at the end of life.
One of the big winners on the night was Rosebridge Court care home which scooped four awards including Manager of the Year and Most Improved Home. Richmond House staff also celebrated after taking home four prizes including those for Manager of the Year and Home of the Year – both of which they have retained for three years in a row. The Home of the Year award was also handed to Belong Village Atherton after the judges decided it was too close to call between the two homes.
Presenting the Staff Member of the Year Award to Julia Cross from Belong Village Atherton was nursing home resident Barbara Wheeler.
Barbara, who lives at Richmond House, said: "This award is extremely important as it reflects the thoughts and feeling of service users and highlights those who have touched so many, It recognises the qualities we look for in the people who we entrust to look after those most important on our lives."
Pauline Payne, presenting the award for Manager of the Year to Martin Homes (Rosebridge) and Lorraine Scholey (Richmond House), said: "This award is to acknowledge the leadership and dedication required to be an effective care home manager. These winners are great managers who have inspired and motivated their teams to provide high-quality person-centred care."
Debbie Dempsey, presenting the Special Recognition Award to Karen McGrady, said: "This goes to a person who has shown enormous commitment to end of life care from the day our paths crossed. She has always been a great advocate for her residents and has embraced all aspects of training and continues to ensure residents have a death which reflects their preferences. The team unanimously felt this person needed to be recognised for her immense contribution."
Lorraine Scholey accepting the award for Home of the Year said: "This is an award for everybody who works at Richmond House – they should be really proud of themselves."
Nicola Johnstone from Belong Village Atherton on their award for Home of the Year said: "I have to say being involved in this project is well worth it. I'm so proud of Belong Atherton. We have achieved so much but winning the award is also down to Debbie, Monica and the Hospice In Your Care Home team."
Hospice In Your Care Home have been a regular presence in the nursing homes since November 2015 working closely with nursing home staff to provide training and equip them with the practical skills and knowledge they need to provide sensitive, timely and compassionate end of life care.
Education programmes have been delivered on how to communicate in difficult or distressing situations such as talking to residents or their families about a patient's future care needs. Staff have also been trained in how to recognise when someone is nearing the end of their life and how to anticipate what medication and pain relief may be needed.
The 11 homes are: Ashton View Care Home in Ashton; Appleby Court Nursing Home in Pemberton; Belong Village Atherton; Dean Wood Manor in Orrell; Rosebridge Court in Hindley; St George's Nursing Home in Wigan; Richmond House Care Home in Leigh; Shawcross Care Home in Ashton; Westleigh Lodge Care Home; High Peak Lodge in Leigh and Westwood Lodge in Wigan.
The winners are as follows:
Non-clinical staff member of the Year
Gemma Willets – Belong
Advance Care Planning (ACP) Champion
Lynn Bradbury – Richmond House
Dignity Champion
Winners – Jay Gibson (Richmond House) & Rachel Leyland (Ashton View)
Carer of the Year
Sam Halliwell – Dean Wood Manor
Senior/Lead of the Year
Roche Andreae – Shawcross
Nursing Assistant/CHAPS of the Year
Michelle Quinn – Westwood Lodge
Nurse of the Year
Jamie Duncan-Noke – Rosebridge Court
Peer Nomination
Jane Whittle – Deanwood Manor
Staff Member of the year (nominated by families/patients)
Julia Cross- Belong
Committee-nominated award
Orchid Mews – Appleby Court
Deputy/Support Worker of the Year
Cheryl Little – Rosebridge Court
Manager of the Year
Martin Holmes – Rosebridge Court & Lorraine Scholey – Richmond House
3R Award – Respect, Resilience, Reliability
Julie Hughes, St George's
Special Recognition Award
Karen McGrady – former manager of Deanwood Manor acknowledged for the work she did there (now working at Bedford Care Home).
Most Improved Home of the Year
Rosebridge Court
Home of the Year
Richmond House & Belong