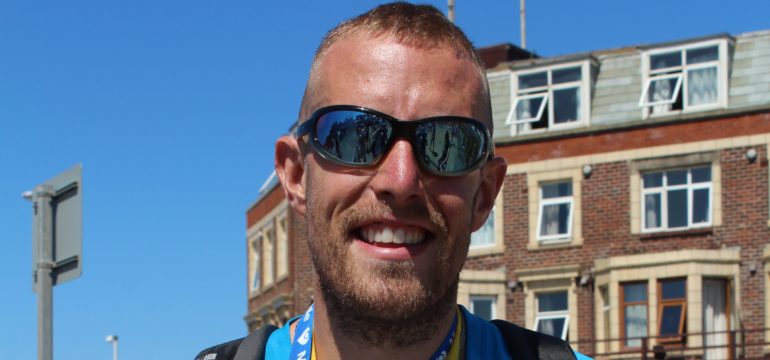 ALMOST 200 people cycled from Manchester to Blackpool to raise money for Wigan and Leigh Hospice.
On Sunday, July 8th, some 170 people rode 63 miles from the city to a warm welcome by the South Promenade in Blackpool.
The riders have raised thousands of pounds for the local charity which needs to raise £8,700 every day to continue providing all of its services.
Chris Duckett, 62, from Appley Bridge took part in the bike ride for the first time and has raised £1,250.
He said: "I've been to some charity functions for the hospice so I thought I'd try and raise money for the hospice. I just can't believe how generous people have been.
"When you realise the hospice is reliant on private donations and the amount it has to raise each day to keep the hospice going you want to help.
"I was a bit nervous about doing it because I'm new to cycling but I've stopped at the rest stops every 20 miles and I'm riding with my friend Bridget who has dragged me along! I've really enjoyed it."
Dave Hollingworth, 69, from Leigh rode with his friend David Haines, 70, from Lowton.
Dave said: "I've done the bike ride for the last 10 years and really enjoy it but last year two of my friends were cared for by the hospice. I'd always said I wouldn't go to the hospice but when my friends were in I wanted to visit them and when you go there and see what they do it makes you realise it's worth every penny."
Gary Hickson, 48, from Leigh said: "I've had family members in the hospice and just recently a friend of mine passed away there. A lot of people do fundraising for the big charities but the smaller charities need support too."
Adrian Brown, 26, from Bickershaw works for Asda Leigh and first did the bike ride in 2016.
He said: "We had a joke at work and they said if I managed to raise £1,000 the first time I did the bike ride I would have to do it again. So I did it a second time and raised £1,100 and now it's become a yearly thing. I'm on to raise over £1,000 again this year."
Maxine Armstrong, Fundraising and Lottery Manager at the hospice, said:
"It's been another fabulous bike ride and I'd like to thank all of our riders for turning out and giving their all to raise money for the hospice – especially on such a hot day.
"We rely on the support of our community and it's wonderful to see so many people taking up the challenge to help their local hospice."