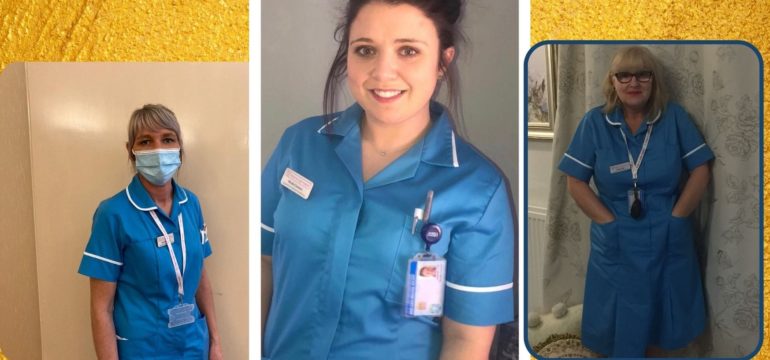 THREE members of the staff at Wigan and Leigh Hospice have become Assistant Practitioners after passing their Foundation Degrees.
Kerry Beaumont, Jane Teder and Nicola Caunce were all Healthcare Assistants at the hospice who successfully applied to study for a Foundation Degree in Health and Social Care at the University of Bolton.
After studying for two years all three found that they had not only passed their exams but all had been awarded distinctions.
Kerry, 43, and Nicola, 29, both work on the Inpatient Unit. Jane, 57, works for the Hospice in your Home team.
Nerve-wracking
They found the prospect of signing up for the course nerve-wracking but all say it has given them a huge boost in confidence.
Kerry said: "When the chance of the role came up I thought 'I'm 41 and I haven't been to school for a long time' so it didn't sound like something for me. But, when I thought about the role, I was already doing some aspects of it so I decided to push myself and do something I had never done before.

"When we turned up on the first day of university it was information overload and we all thought 'what have we done?' but they started us off with something basic and we went from there. My mum sadly passed away just as I was starting and since she died the course has been my focus.

"When I was thinking about doing the course my mum said 'there's pictures of everyone in a cap and gown up on this wall – when will we get one of you?'. I got a distinction which was a shock and I was quite proud of myself. I think my mum would be proud of me too.

"I already loved my job because of the amount of time I get to spend with patients. I like that I get time to build a relationship with them and get to understand what they want before they die. It could be seeing their pet a final time or I'll take them out in the garden in a wheelchair. That won't change but after doing the course, and having so much support from everyone over the last two years, I have more belief in myself. I know now I can do things I thought I couldn't."
Confidence
Nicola, who has been at the hospice for four years, was reluctant to interview for the chance to go to university but was persuaded by her colleagues.
She said: "I have no confidence in anything I do but two of the staff nurses talked me into applying. One of them was Rachel who has been my mentor throughout and I'm so grateful to her.

"I have cried doing it at times but I have loved it too. I still can't believe I did it because confidence is such a big thing for me. When I saw my new uniform and picked it up that was when I realised I'd done it.

"I've always loved my job and I feel that by doing this I have changed in my role. I still find there are challenges every day but I'm much more confident. Now I can do new things like admitting patients so it feels like I've made progress."
Throughout the last two years Nicola has been fitting in her coursework around her job and caring for her 7-year-old daughter Willow.
Nicola added: "I wanted to do it for Willow and she's so proud. She keeps asking if I have got my certificate but I'm still waiting!"
Jane says the course has been a huge opportunity for her.
"It was a lovely surprise to be selected but it was a shock and absolutely nerve-wracking at my age to be going into a classroom," she said.

"When I went to university I was so lucky I was with Nicola and Kerry because the three of us went in as a group together. The first day I was terrified but after that it was fantastic. My confidence has grown, I'm thinking more logically and my communication is better. My knowledge has expanded in every single area of my job."
Qualified
Jane is now qualified to perform assessments of new patients and also co-ordinates the staff timetable.
She said: "When I was a Healthcare Assistant it was all practical hands-on nursing. That is something I definitely want to carry on doing but now I'm more observant when I go to someone's home. For example, I feel more confident to raise a concern if I think a patient needs more support. It's such a good feeling.
"On that first day I felt I was a lot older than everyone else and on my own in a blouse but now I'm wearing tracksuits and hoodies so it's even affected my fashion sense – that's how much the course has changed every aspect of my life!"
Ends