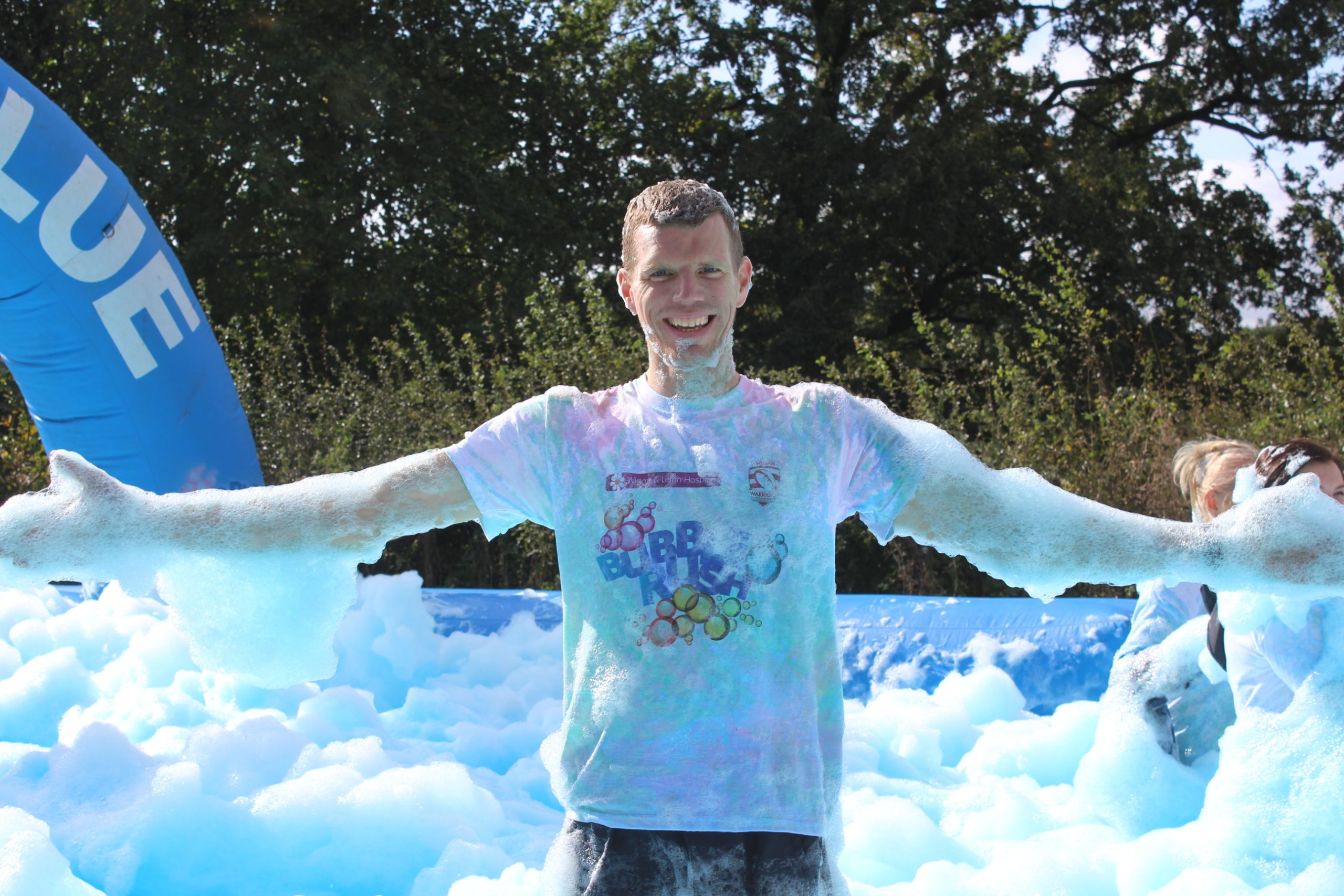 OVER 700 people took part in the first ever Wigan and Leigh 5K Bubble Rush on Sunday (October 6th).
Some 739 participants gathered at Haigh Hall at 11am to run through masses of colourful foamy bubbles.
Four bubble stations were set up along the route pumping out blue, yellow, green and red bubbles covering fun-loving locals in foam from head to toe.
Kathryn Barlow-Fitzpatrick, 36, from Wigan took part alongside friends from cycling group Breeze Network Wigan.
She said: "We do quite a lot of events together and this was an event where everyone could be included. It was wonderful – lots of fun and a brilliant atmosphere. We'll be back next year!"

Phil Griffiths, 34, from Leigh – otherwise known as Road Runner Phil – said: "I've done loads of runs in the past but now I've started doing them for charity. My nan was fond of Wigan and Leigh Hospice and it would have been her 99th birthday yesterday so doing the Bubble Rush was a way of marking that. It was an amazing event – I've absolutely loved it."

Joanne McMahon, 46, from Goose Green said: "I'm doing the Bubble Rush for my uncle who is currently in the hospice on the inpatient ward. We saw it on the hospice's Facebook page and decided we wanted to do something worthwhile and raise money to help fund end of life care."
Wigan and Leigh Hospice and Wigan Warriors Community Foundation brought the event to Wigan Borough in partnership with Land of Beds. The bed retailer was the official 2019 headline sponsor, with Inspiring Healthy Lifestyles, Nationwide Frame Services (NW) LTD and HW Moon Toyota all supporting the event by sponsoring one of the four Bubble Rush Stations.
Maxine Armstrong, Fundraising and Lottery Manager for the Hospice, said: "We were a bit worried about the rain in the morning but it brightened up just in time and we've had an amazing day. We are delighted that everyone enjoyed themselves in the bubbles and we're looking forward to bringing the Bubble Rush back for 2020."