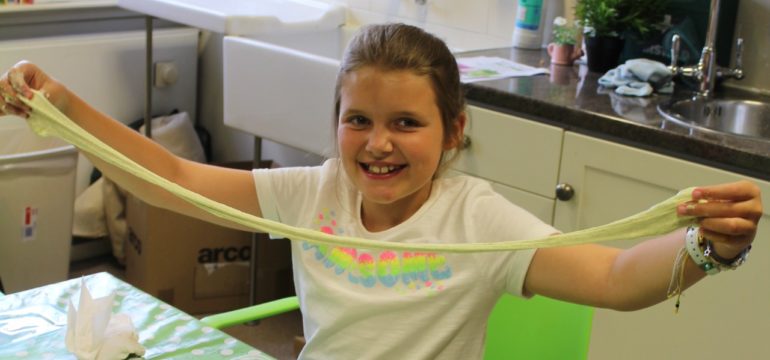 A SCHOOLGIRL from Wigan has been showing people with life-limiting illnesses how to make slime to help them relax.
Kind-hearted Annie Fletcher, 10, finds making and playing with slime therapeutic and wanted to share her skill with others.
She decided to write to Wigan and Leigh Hospice which supports people from the borough who have a life-limiting illness and need palliative or end of life care.
She was contacted by Lucy Atkinson, the hospice's Creative Therapies Co-ordinator, who invited Annie and her mum in to give a workshop.
Annie and her mum Catherine visited the hospice's day service the Oak Centre on Monday, July 30th, when they spent an hour with four service users, a patient from the Inpatient Unit, a carer and children related to the service users teaching them the right method for creating slime.
Annie said: "I used to worry about school but then I'd come home and get my slime out. I'd play with it and it got everything off my mind.
"Sometimes if people are worrying about things or panicking they can just play with slime and it's therapeutic. I like playing with it, stretching it and making bubbles."
Catherine said: "Annie loves making slime and said it would be nice if she could show other people how to make slime to help them relax. She was only a baby when my mum was cared for by the hospice and passed away but as a family we've always told her what a wonderful place it is. She's well aware of what the hospice does and thought the patients could benefit from making slime in the same way she does.
"She probably makes it two or three times a week and she makes it for family and her friends too. Her schoolfriends all bring Tupperware into school and she makes it for her class – even her teacher."
Oak Centre user Pauline Horrobin, 58, from Pemberton attended the workshop with her granddaughter Makayla Horrobin, 12, also from Pemberton.
Pauline said: "I really enjoyed the workshop. I've seen Makalya playing with slime so when we found out about the workshop she wanted to do it. I found it quite soothing and relaxing playing with the slime. You can take all your frustration out on it."
Makayla said: "I play with slime a lot, I really like to stretch it, sometimes when you are stressed it relieves you. The workshop was fun – I really liked it – especially when I made it pink and put the glitter in."