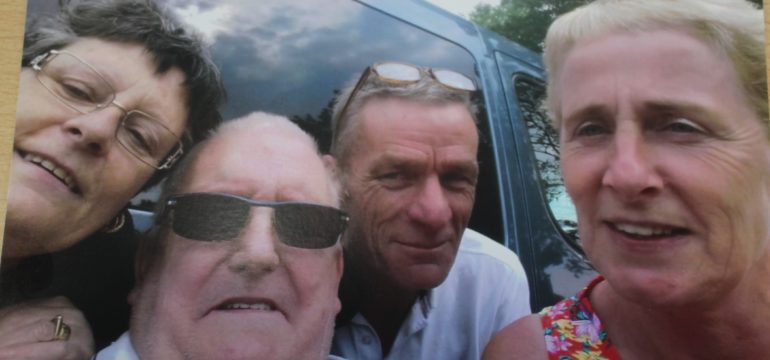 A HOSPICE user has discovered a family he never knew existed after researching his family tree at Wigan and Leigh Hospice.
Graham Stevenson, 60, from Lowton found his half-brother Ian living in their childhood home town of Blackpool in May after discovering his existence just weeks before.
Former joiner Graham, who has liver disease and emphysema, started researching his father's side of the family tree when Graham began attending the Oak Centre day therapy service at the hospice in January this year.
He said: "I had tried researching my father's side of the family tree before but I didn't get anywhere. My mother and father split up when I was 3 years old and I didn't ever see him again after that so I didn't know much about him."
Graham's mum Edna and his dad split up in 1960 when Graham was 3 years old and his brother Leslie was 5. Their dad John Wesley Stevenson then set up home with Ian's mum.
When Graham joined the Oak Centre he set himself a number of personal goals to achieve which included finishing his family tree. He and Rehabilitation Assistant Gemma Williams began their research and left a message on family history website Ancestry.com asking for information about his dad.
After seeing the message Michelle Fairs, a second cousin on Graham's mother's side, contacted Graham to introduce herself to him but also to tell him that he had a half-brother – Ian Ritchie Stevenson – as well as two half-sisters.
As a result of tracing her own family tree Michelle had a copy of Graham's dad's birth certificate which revealed that Graham's dad had been adopted. It explained why Graham and Gemma had drawn a blank when trying to find his dad's birth certificate.
Graham's wife Kath, 59, said: "He just couldn't find his father – there was no birth certificate. I said he must be adopted but we only found out when Michelle got in touch that Graham's father was named Wesley Alan Millard at birth."
Eager to build up her family tree Michelle had been digging and discovered that in fact Graham had a half-brother and two half-sisters. She gave Graham Ian's name and email address as Ian had left them on ancestry.com as, coincidentally, he was also tracing his family tree.
Ian knew roughly about Graham and had been looking for Graham and his brother Leslie who sadly died a few years ago. Graham, on the other hand, knew he may have a half-sister but had no idea that his dad had gone on to have a son and two daughters –Ian and two half-sisters who have decided they do not wish to make contact.
However, Ian and Graham met in May at Carlton Cemetery in Blackpool when Graham and Kath decided to visit's Graham's mum's grave. They called Ian who lives in Blackpool to tell him they were nearby and to ask if he wanted to meet them. The cemetery is also the final resting place of their dad who died in 2010. Ian and his wife Debbie were soon on their way to the cemetery to meet Graham and Kath and the brothers met for the first time.
Graham said: "It's quite an emotional feeling – one minute you think you are by yourself and the next you've got an extended family."
Kath said: "Ian pulled up in his car and instantly knew Graham and he and his wife came over. Ian and Graham shook hands and Debbie gave him a squeeze and I gave her and Ian a squeeze. I told them I was so pleased that we had found them – we were over the moon."
The brothers have vowed to keep in touch and will meet up again.
Graham is now tracing the non-biological and biological side of his father's side of the family tree after finding out who John Wesley Stevenson's birth parents were.
Kath said: "If Graham hadn't come to the Oak Centre he would never have started tracing his family tree and Michelle wouldn't have found him. Now we talk to her all the time. She and Graham and are both tracing the family tree and pass on bits of information to help each other.