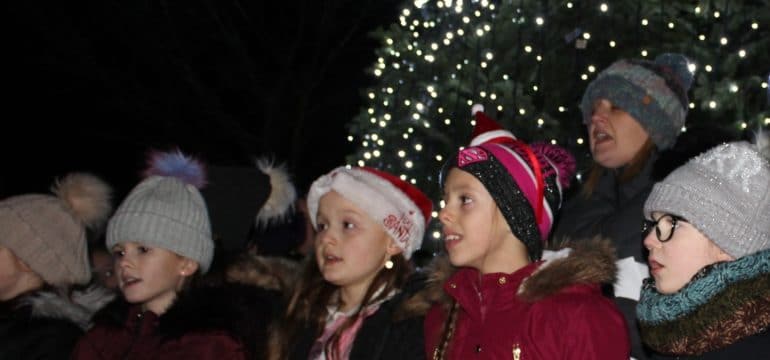 HUNDREDS of people attended Wigan and Leigh Hospice's annual Light for a Life ceremony on Tuesday December 4th to mark the lives of loved ones.
The moving ceremony is held at the Hindley-based hospice every December when local people gather to remember loved ones who have died or to give thanks for happy events, such as a birth or wedding.
On the evening the lights on the Hospice's Christmas Tree are switched on representing the 4,000 Light for a Life dedications made.
Reverend David Hamblett began the ceremony with prayers and a reading which was followed by a welcome from Jo Carby, Clinical Director at the Hospice. She introduced Rebekah Ashley, Inpatient Unit Manager at the Hospice who this year was given the honour of officially turning on the Christmas Tree lights.
Children from The Four Keys Federation schools led the singing with a performance of Away in a Manger under the Christmas Tree. Trinity Girls Brass Band then played a festive medley of Christmas songs.
The Light for a Life ceremony started later than planned this year due to a visitor needing medical assistance.
Maxine Armstrong, Fundraising and Lottery Manager, said: "We would like to thank everyone who attended the ceremony and supported the Hospice. I would particularly like to thank everyone for their patience and understanding regarding the delay due to a visitor to Light for a Life falling ill. I am pleased to say the gentleman in question visited the Hospice the next day and is feeling much better.
"Light for a Life is very special to those who attend and to us at the Hospice. It is a chance to reflect on the lives of those people important to us – whether or not they are no longer with us. We can come together, remember and support each other. It is also a vital appeal for the Hospice which needs to raise almost £10,000 every day. We are grateful to everyone who has made a Light for a Life dedication and a donation to the Hospice. These donations will go towards supporting local people across Wigan and Leigh who rely on Hospice care."
Light for a Life ended with a rendition of We Wish You a Merry Christmas sung by the children from The Four Keys Federation schools.
The Light for a Life event was sponsored by Bithell's Waste Management and also supported by Astley Hire who supplied the crane for the erection of the Christmas Tree.