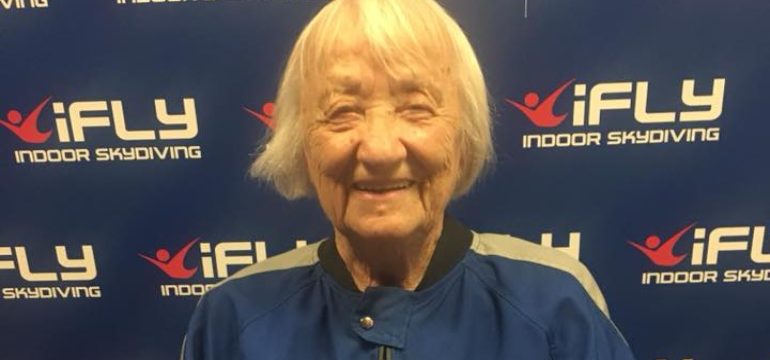 AN 88-YEAR-OLD woman from Wigan is doing an indoor skydive to raise funds for Wigan and Leigh Hospice.
Adventurous octogenarian Lilian Goulding originally wanted to take part in the hospice's annual sky dive which took place at Black Knights Parachute Centre on Sunday, June 10th, when she would have jumped from a plane at 11,000ft above the Lancashire countryside.
Unfortunately, much to her dismay, the centre could not accept Lilian but she has decided to do the next best thing and do an indoor sky dive at iFLY Indoor Skydiving in Manchester.
Lilian said: "Before they let you do a sky dive you have to show you can easily straighten your legs with the equipment on and keep them up until the instructor says to stop. Well, I tried it but I really couldn't do it and he said he didn't think I could do the sky dive. It was so disappointing because I passed everything else – I went to my GP and got a note saying I was fit – and I would have done it.
"I thought about it a lot beforehand, playing it back in my mind, and my son didn't want me to do it but I thought 'I've got an expert jumping with me' and I was determined. I even wrote a poem for him to show him how determined I was to do the sky dive."
However, community fundraiser for the hospice Christine Edwardson, struck on the idea of Lilian doing an indoor sky dive and showed Lilian an online video of indoor skydiving.
Lilian said: "I'm wondering what it will be like and what it will feel like but I've been brought up to think positive and I have a son who is always getting me to think positive.
"My husband Ken did a lot of charity work with Lions International and I feel that by doing this I'm following on from what Ken did. I'm also doing it because I like helping people who are sick and before I die I want to do something a bit adventurous and despite my age I think I can do it.
Lilian and Ken were married for 65 years living together in Bamfurlong before she moved to be nearer to her son Mark in Standish.
Christine said: "Lilian had her heart set on doing the sky dive and I know she was devastated when she found out she couldn't do it. Fortunately she can do the indoor sky dive and I'm so pleased for her."
In 2017 Wigan and Leigh Hospice cared for 1,100 local people with a life-limiting illness as well over 350 people close to our patients. It has to raise over £8,700 every day in order to continue providing all of its services.