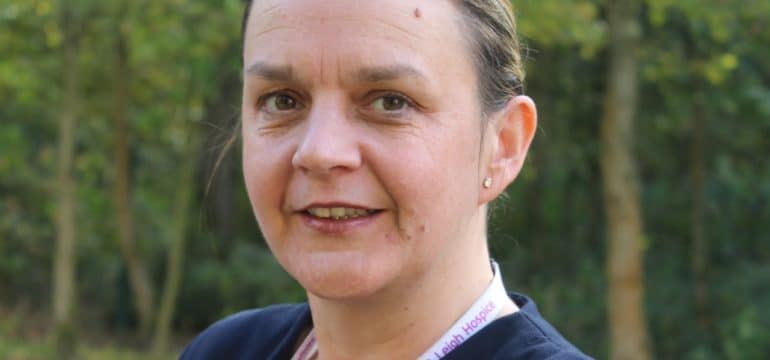 A new clinic has opened in Marsh Green and a second is due to open in Leigh next month to support people with life-limiting illnesses which are palliative.
Patients can now attend a clinic on Tuesday mornings at Marsh Green Clinic on Harrow Road between 8.30am and 1pm when they can see a Community Hospice Nurse Specialist from Wigan and Leigh Hospice.
Another clinic will start running in Leigh at Old Henry Street Medical Centre on Wednesday, February 6th and will be open every Wednesday after that between 1pm and 4pm on a regular basis.
The Community Hospice Nurse Specialist team are nurses who are highly trained in specialist palliative and end of life care.
Jenny Gallagher, Manager of the Community Hospice Nurse Specialist service, said: "We hold outpatient clinics at our Woodview Centre at the Hospice seven days a week but sometimes people are afraid to come. There is still a fear of hospices and what they represent. The Woodview Centre is in fact a building at the side of the main Hospice and is a beautiful building in a relaxed peaceful atmosphere. However, we acknowledge that some patients are still anxious about coming.
"One of the ways we are addressing this is by bringing the clinics closer to patients' homes and holding clinics within the community in GP surgeries. It may also be far easier for people to travel to their local GP surgery rather than to the outpatient clinics at the Woodview Centre in Hindley."
Historically the team have visited patients at home but are able to see far more patients by holding outpatient clinics.
Clinics also take place in Standish at Standish Medical Practice on Monday afternoons and Wednesday mornings. The popular clinics have been running since September 2017 and last year more than 1 in 10 outpatients were seen at these clinics*.
A Community Hospice Nurse Specialist can help patients with any symptoms they may be experiencing – such as pain, sickness, breathlessness or appetite loss – as well as support them emotionally and help them plan for the future. Most of the team can prescribe medications to help with symptoms that can arise from the patient's illness.
The team supports people with progressive illnesses such as cancer, advanced heart failure and COPD in the community – including patients living in care homes – when they are at an advanced stage of their illness.
Jenny said: "We go to homes if a patient is housebound but by holding clinics we are able to offer the service to many more patients. In 2017 the number of patient appointments increased by 36% compared to the previous year due to the team seeing more patients in clinics."
To access outpatient clinics patients must have a life-limiting illness such as motor neurone disease, advanced cancer, progressive heart failure or COPD. They should approach their GP, District Nurse or Hospital Consultant to be referred to the service.
Clinics at the Woodview Centre are based at Wigan and Leigh Hospice in Kildare Street, Hindley.
The Marsh Green clinics began on Tuesday, December 4th.
Wigan and Leigh Hospice is a charity which receives a third of its funding from the NHS. It relies on the community to ensure it can continue to deliver all of its services.