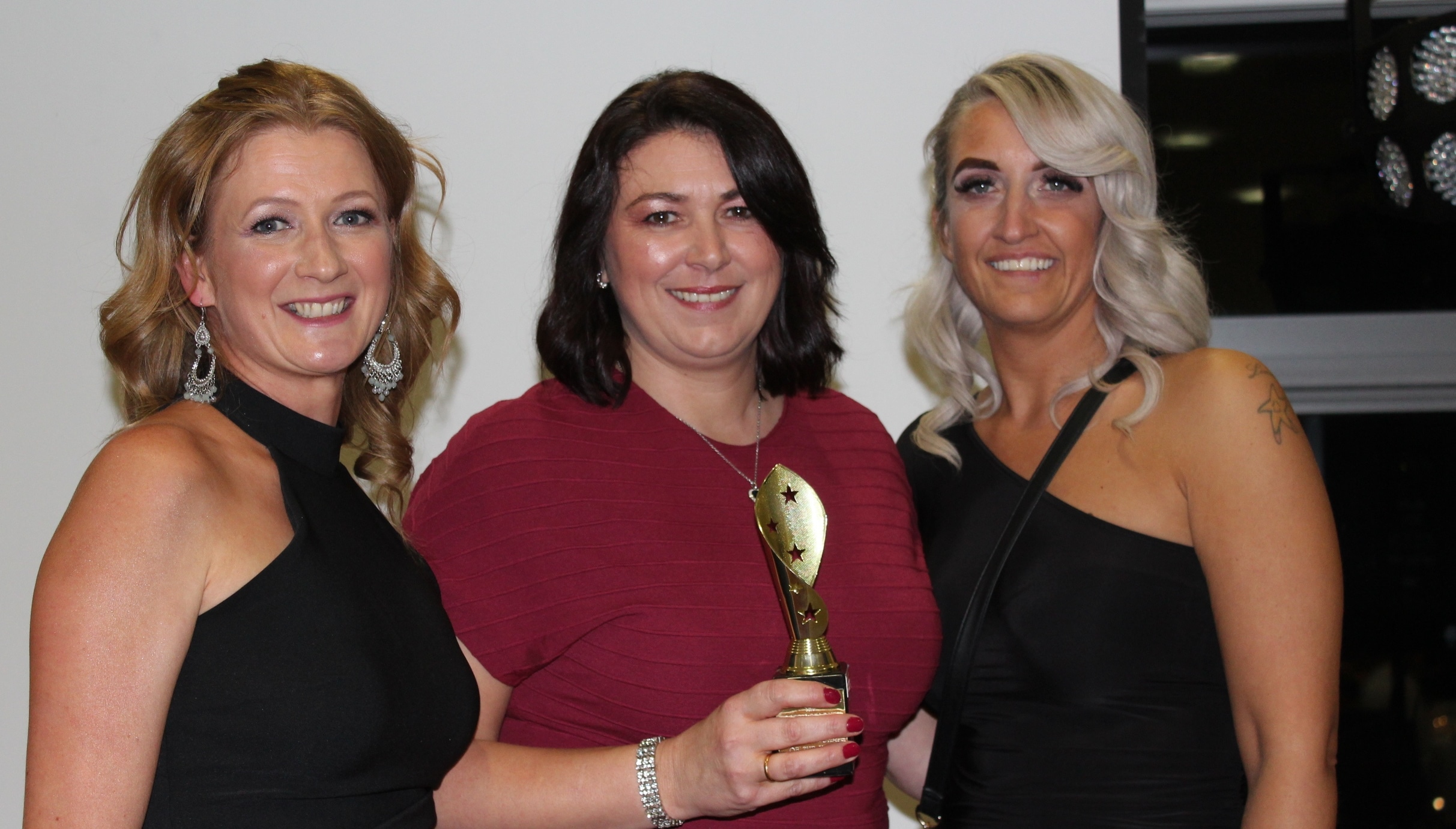 THE COMMITMENT of nursing home staff across the Borough to high quality end of life and palliative care was recognised at an awards ceremony on Friday (October 4th).
The event at Leigh Sports Village was held by the Hospice in Your Care Home team from Wigan and Leigh Hospice which provides training and education in 12 nursing homes across the Borough.
Some 19 awards were handed out on a night when Deanwood Manor in Orrell was the big winner scooping six awards including Most Improved Home and Manager of the Year.
Home of the Year
Jah Jireh in Beech Hill won the award for Home of the Year and were presented with it by Hayley Moore, Inspection Manager for the Care Quality Commission.

She said: "This home has shown great collaboration with the hospice, embracing all the training opportunities available to them and demonstrating the impact of this education by implementing innovative ideas.
"All levels of staff have been consistently enthusiastic and shown high levels of compassion and empathy to their residents and those important to them."
Special Recognition
Two special awards were given to Shawcross Care Home in Ashton; the Special Recognition Award was won by Senior Healthcare Assistant Michelle Crowther Brown who on September 29th took part in the Berlin Marathon to raise funds in support of Wigan and Leigh Hospice patients. An award was also given to Shawcross as an acknowledgement of their therapy dog, Henry, who lives at the home.
Presenting the award to Michelle was Pauline Payne, Chair of Trustees at the hospice.
She said: "This award is to highlight the tireless work undertaken by an extremely compassionate, caring, committed individual who strives to influence and prioritise end of life care.
"Her dedication and enthusiasm towards the hospice and in particular the Hospice in your Care Home programme has seen her selflessly fundraising to enhance the care of residents in care homes who are imminently dying.
"Despite having experienced personal loss, she has continued to immerse herself in various challenges, with the goal of supporting the hospice and is a fantastic role model and champion."

On Henry, Monica McCahery, senior educator for Hospice in your Care Home, said: "He has not only changed working lives but also the residents' lives. One of the residents hadn't spoken in years but said 'dog' and pointed to Henry which was such a special moment. The staff have acknowledged that when residents come to the end of their lives Henry will keep going to sit outside their room or sit on a chair in the room with them."
Julia Cross, Senior Support Worker at Belong Atherton, took home the award for Family Nominated Staff Member of Year for the fourth year running.
At the end of the night three homes – Appleby Court, Belong Atherton and Richmond House – were given plaques in recognition of achieving their 12-month objectives.
The ceremony recognises work done by staff in nursing homes both to improve the care they provide for residents at the end of life and to reduce unnecessary hospital admissions at the end of life.
Staff from the nursing homes all buy their own tickets priced at £10 each and the event raises some funds which go to the Hospice for patient care.
Practical skills and knowledge
The Hospice In Your Care Home team has been a regular presence in nursing homes since November 2015 working closely with staff to provide training and equip them with the practical skills and knowledge they need to provide sensitive, timely and compassionate end of life care.
It was announced in September that the team would be expanding and as a result will be able to offer training and education in all 22 of the Borough's nursing homes.
Education programmes are delivered on how to communicate in difficult or distressing situations such as talking to residents or their families about a patient's future care needs. Staff are also trained in how to recognise when someone is nearing the end of their life and how to anticipate what medication and pain relief may be needed.
The 12 homes currently involved in the programme are: Ashton View Care Home in Ashton; Appleby Court Nursing Home in Pemberton; Belong Village Atherton; Dean Wood Manor in Orrell; Jah Jireh in Beech Hill; Rosebridge Court in Hindley; St George's Nursing Home in Wigan; Richmond House Care Home in Leigh; Shawcross Care Home in Ashton; Westleigh Lodge Care Home; High Peak Lodge in Leigh and Westwood Lodge in Wigan.
The winners
The winners were as follows:
Non-clinical staff member of the Year
Chloe Webb, Activity Co-ordinator at Westwood Lodge
Advance Care Planning (ACP) Champion
Richmond House
Dignity Champion
Christine Edwards, Healthcare Assistant at Deanwood Manor
Carer of the Year
Chris Shennon, Healthcare Assistant at Deanwood Manor
Senior Carer/Lead Carer of the Year
Donna Parkinson, Healthcare Assistant at Deanwood Manor
Nursing Assistant/CHAPS of the Year
Julie Guest RGN (Registered General Nurse) Clinical Manager & Michelle Quinn, Nursing Assistant both at Westwood Lodge
Nurse of the Year
Janette Pye, Registered General Nurse at Appleby Court and Jamie Duncan-Noke, Registered Mental Health Nurse at Rosebridge Court
Peer Nomination
Roche Andreae, Residential Unit Manager at Shawcross Care Home
Staff Member of the year (nominated by families/patients)
Julia Cross Senior Support Worker at Belong Atherton
Acknowledgement to Henry, the therapy dog
Shawcross Care Home
Committee-nominated award
Woodlands Unit at Deanwood Manor
Deputy/Support Manager of the Year
Julie Hughes, Nursing Assistant at St George's
Manager of the Year
Liz Darley at Deanwood Manor
3R Award – Respect, Resilience, Reliability
Carole Charnock, Manager at Appleby Court
Special Recognition Award
Michelle Crowther-Brown, Senior Healthcare Assistant at Shawcross Care Home
Most Improved Home of the Year
Deanwood Manor
Home of the Year
Jah Jireh