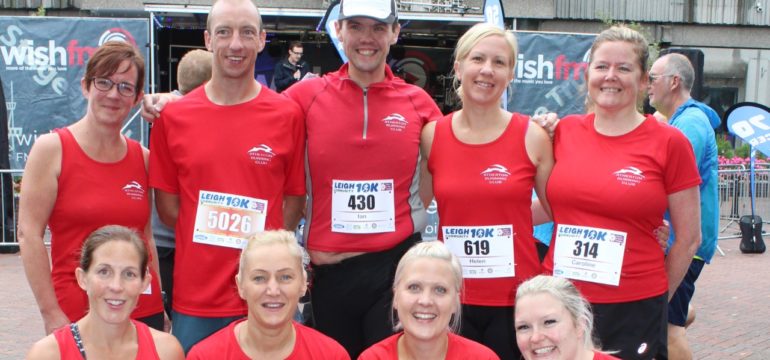 ALMOST 750 people signed up for the second Leigh Community 10k held on Sunday, August 13th.
Participant numbers increased from 600 who took part in the inaugural race in 2017 to 744. The race was won by Mike Cayton from Horwich who finished the course in an incredible 30:53.
Racestarter for the Leigh Community 10K was Kevin Lowe, 69, from Tyldesley who is a regular user of the Oak Centre day service at Wigan and Leigh Hospice which once again was the main charity partner for the event.
Kevin fired the starting pistol at 9.30am to set 744 people off on two laps of Leigh Town Centre.
Among those taking part was Darren Winrow, 48, from Hindley. He said: "My mum Jean Winrow had cancer and passed away when I was 25. Nurses from the hospice came out to her and offered her support and guidance and were a big help. I've done the hospice's Manchester to Blackpool bike ride eight times too."
Julia Galloway, 78, from Atherton took part in the Leigh Community 10K for a second time. She said: "I think it's so important to keep healthy and do what you can to help others in need and I know the hospice does great work.
"I did it last year when it was the first 10K for Leigh and I thought it's so important to have something like this for the local area. Now that I've done the Leigh 10K I will write to friends and neighbours and ask them for a donation for either CAFOD or the hospice – it's up to them – I'm raising money for both."
Elliot Reeder, 15, who ran in memory of his grandad raised £1,100 for the hospice and completed the 10K in 50 minutes and 5 seconds.
Maxine Armstrong, Fundraising and Lottery Manager at the hospice, said: "It's been fantastic to see so many people in Leigh taking part in the event or simply coming along to show their support. Last year was wonderful but with the market and even more people taking part this year the town centre has been buzzing with activity.
"The hospice currently has to raise £9,700 every day so that we can continue to care for local people with a life-limiting illness so the support of events such as this one are absolutely vital."
The Leigh Community 10k is sponsored by Bithells Waste Management Ltd, Leigh Neighbours Project, Eldercare and Intertek. The event is a collaboration between Wigan & Leigh Hospice, Wigan Council, Inspiring healthy lifestyles, Fylde Coast Runners, Leigh Harriers Athletics Club, the Rotary Club of Leigh, Time2Run Events and Nectar.