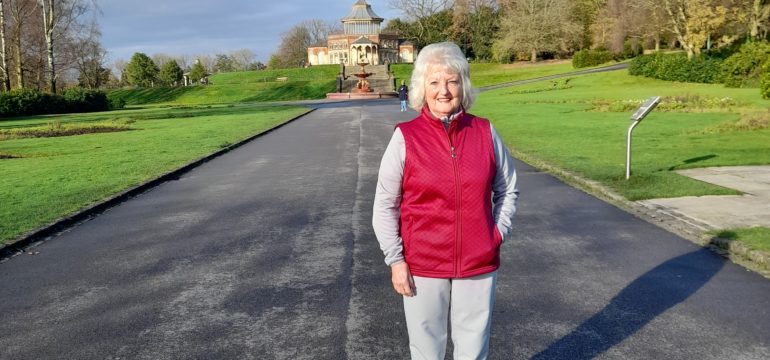 A GREAT-GRANDMA from Abram is walking 10,000 steps very day throughout November to raise funds for Wigan and Leigh Hospice.
Shirley McHugh, 72, has raised over £1,300 for the Hindley-based charity which cares for people with progressive, incurable illnesses from across Wigan Borough.
She saw a story on the news about how hospices were coping financially during the COVID-19 pandemic and decided to start fundraising in memory of her dad and a family friend.
A close friend
She said: "I saw an advert on Facebook encouraging people to walk 10,000 steps a day for charity and I had heard how hospices were struggling for funding. The hospice looked after my dad nearly 30 years ago and I felt like I wanted to give something back.

"I'm also doing it for Peter who was a close friend and dad to Katie who works at the hospice. And you never know when you might need the hospice yourself. I'll do whatever I can do help."
Before lockdown began Shirley did some walks with friends but has since done a few with her granddaughter Megan, 22, and great-granddaughter two-year-old Harriet.
Support from others
A former medical secretary for Wigan Infirmary Shirley started off with ambitions to raise a few hundred pounds but has had plenty of support from friends and even strangers.
She said: "I hoped to get £250 – I'd have been happy with that. Usually I play golf two 2 or three times a week for Hindley Hall Golf Club. I was Lady Captain in 2015 and raised £1,200 for the hospice. A lot of the sponsorship I've raised for my walking has come from there.

"I'm in a WhatsApp group with the women golfers and when I told them what I was doing they said they would sponsor me. My partner also plays golf and the men from the club have all said they'll sponsor me too.

"Most of the time on my walks I do a lap of Abram three times and I get chatting to people who have sponsored me too. On my second lap one day the lollipop lady asked me 'are you doing that to get fit?' and when I told her what I was doing she sponsored me. The postman saw me and also asked me if I was walking to get fit. When I told him what I was doing he said to put his name down for sponsorship too. Everybody is so generous. Even the restaurant I go to regularly – La Cava – has given me a £25 voucher to raffle off.

"I'm absolutely overwhelmed and it's made the walking so much easier."

Appreciative

Katie Longmate, a family friend and hospice nurse specialist for Wigan and Leigh Hospice, said: "My dad Peter would be delighted and so appreciative to Shirley for doing this.

"Shirley and her partner were great friends to my dad and have been so very supportive to my mum since dad passed away."