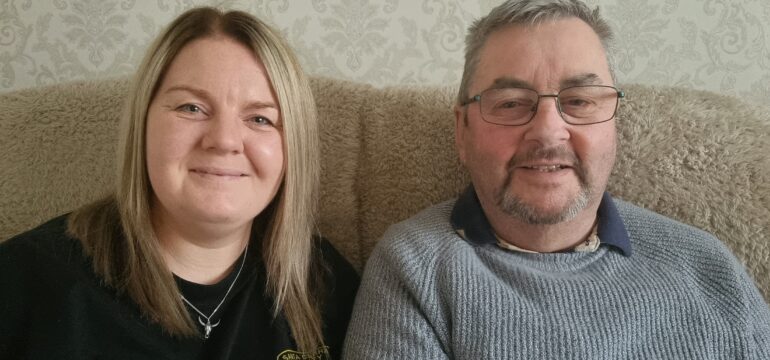 A MUM and her dad will be travelling the length of India in a tuk tuk to raise funds for Wigan and Leigh Hospice.
Bekah Bamber, 38, from Platt Bridge and her dad Pete Perks, 72, who now lives in Burscough will take on the epic adventure this September.
They will be joining 69 other teams in a challenge to reach the finish line in their tuk tuk without any support. Pete will be the oldest person who has ever completed the challenge.
"Fortunately, I'm a former nurse and dad is a mechanic so we think we've got the important things covered between us!" said Bekah, who is mum to a 12 and a seven-year-old.
The finish line
The journey is approximately 2000 miles but with diversions to see landmarks and heritage sites on the way the pair will travel around 2,600 miles over a fortnight. The tuk tuk can travel a maximum of 30mph so they estimate driving around six to seven hours per day in order to reach their destination on time.
Bekah said: "I've got three reasons for wanting to support the hospice: first, my auntie Carol was in the hospice 20 years ago with bowel cancer and the staff were just absolutely amazing. As a former nurse I know they go above and beyond – they don't just do the medical care, they look after the person and the family, they look at everything – it's not just about medication and test results.

"The second reason is that there's hardly anyone in Wigan who doesn't know someone who has been in there.

"Finally, I did agency work as a nurse at the hospice a few years ago. I can 100% say they are brilliant with patients the whole time, they actually do care, it's not just a job. I sat with somebody and didn't leave their side for a second until their relatives arrived. I thought it was amazing that the hospice made sure that happened – that person wasn't alone when they were dying – and that wouldn't happen everywhere. I also remember the staff making an effort to get a football on screen for a patient. He watched the match with his relatives, they were all shouting and enjoying a takeaway and just enjoying that precious time together."
Long-standing ambition
The trip marks an ambition of 20 years for Bekah.
"I've been desperate to do it since I was 18 but no-one was daft enough to do it with me!" she said. "Now I've had my kids and they're a bit older I thought I'd ask my dad to do it with me. We speak every day and he's my best friend. At first he said no but I told him we need to make some amazing memories and now he's so excited – he's only ever been on package holidays to Spain and Greece and now I'm dragging him to India for a crazy challenge! I want to show him the world and he's really up for it."
The pair will fly into Delhi then must make their own way up to Gangtok not far from the Nepal border where they will have one day training in mechanics and another day of training in how to drive a tuk tuk.
On September 12th their adventure begins and they must be at the finish line in Fort Kochi by September 25th.
Bekah and Pete have chosen a team name of Are We There Yet?
The team are also fundraising for Queenscourt Hospice in Southport.
Sponsorship and social media
They can be sponsored at: www.justgiving.com/team/arewethereyetindia and followed on social media:
Facebook: Are We There Yet – India
Instagram: @arewethereyetindia
YouTube: Are We There Yet? – India
Ends
Photo: Bekah and Pete