Our Board of Trustees
As an independent charity, Wigan and Leigh Hospice is led by a board of trustees which holds ultimate responsibility for the governance of the organisation.
A trustee is a person appointed by the charity as a member of the board of trustees to ensure that the charity complies with its governing documents by carrying out the purposes for which it was set up and to ensure compliance with the legislation that relates to the charity's activities.
Our Board is a dedicated team coming from a number of professional backgrounds who offer different skills to support all our hospice staff in maintaining a high level of
service to the Wigan and Leigh communities.
Pauline Payne, Chair of Trustees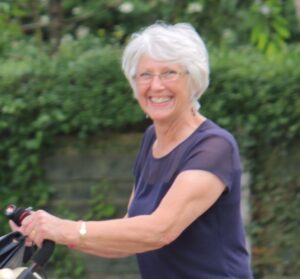 Pauline was a teacher (11-18s) for 34 years. She is now retired and spends her time looking after her six grandchildren; singing in a Community Choir; socialising with friends and is member of a lively Book Club.
Pauline became a volunteer at the Hospice 30 years ago when she became part of a newly formed bereavement support team, which she loved being a part of. It was family support/ social worker and founder of the group, Lynda Lythgoe, who inspired her to do whatever she could for the hospice.
After leaving the team Pauline supported the hospice in various ways: reception work; supporting events and fundraising in her home village of Lowton. In 2010, she was asked to become a trustee. She loves being a trustee and considers it to be a huge privilege.
Pauline became Chair of Trustees in 2019.
Paul Carroll, Treasurer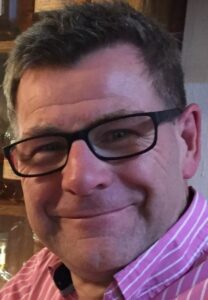 Originally from Birmingham, Paul joined the NHS West Midlands regional management training scheme in 1976 and was an NHS manager until retirement in 2013.
He came to Wigan in 1986 as Assistant Hospital Services Manager at Wigan Infirmary and spent his 10 years before retirement as a commissioner for NHS Ashton Leigh and Wigan/Wigan Clinical Commissioning Group.
Throughout his career Paul had an abiding interest in ensuring his work was patient-focused and after retirement he became a trustee of the new Wigan Healthwatch. He became chair after Sir Ian McCartney stepped down as chair and Paul retained that position until 2016. A year later he was appointed a trustee of the hospice.
His interests include collecting art, reading and many sports, especially skiing and cycling. He has been involved for many years with Wigan Phoenix running club and is chairman, treasurer and race director there. In 2018 he completed the last of the 214 Wainwright Lake District fells.
He is married to Marian and has a daughter, Lauren.
David Mayes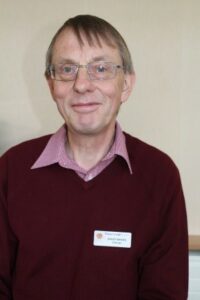 David was born and has always lived in Leigh where he feels very rooted in his community.
He read law at Liverpool University then completed his solicitor's professional examinations at the College of Law at Christleton near Chester. In 1973 he became articled to Tom Fishwick at the firm of Frank Platt and Fishwick in King Street, Wigan, being admitted as a solicitor in 1976.
He became a partner in 1982 and eventually retired from the partnership in 2009.
He became a trustee in 2000 and eventually became Chairman. In 2019 David stepped down as Chair as he believed the time was right for a fresh face to take over but he has continued to serve the hospice as a trustee.
His hobbies and interests include reading, theatre, music, birdwatching and walking.
Shelagh Kenward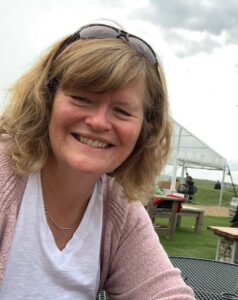 Shelagh is originally from London but met her husband at St. Mary's Medical School. He was an avowed Boltonian so she soon found herself in the North West.
Initially she became a GP in Wigan but then moved to work at Wigan and Leigh Hospice when it was still in Poolstock in 1991.
She worked as a Hospice Physician at the hospice for 10 years until 2001. Shelagh then moved into Occupational and Disability Medicine until retirement in 2019.
Shelagh has been a trustee at the Hospice since 2009. Since retirement she has given more of her time to the hospice in other voluntary roles, such as helping out on reception.
She enjoys cycling and has done the hospice's annual Manchester to Blackpool Bike Ride a couple of times for the Hospice. In addition, she spends her spare time hill walking with her spaniel and playing tennis. She and her husband have welcomed their first grandchild in 2021.
June Law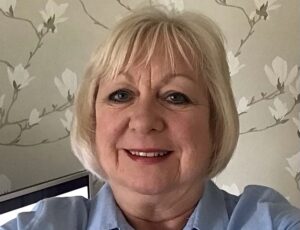 June qualified to be a physiotherapist at Manchester Royal Infirmary in 1979. A move to Leicester followed where she married, began her family and worked in various Leicester hospitals.
Missing Lancashire life and people, the family moved back home in 1987. During this time whilst raising her family, she continued to work privately as a physiotherapist.
In 1990 June resumed her career within the NHS and worked as a physiotherapist at all the hospital sites across what was Wigan Health Authority.
Whilst working as a Superintendent Physiotherapist across Leigh Infirmary and Wigan and Leigh Hospice, the opportunity arose to work initially as full time physiotherapist and then as the team lead within the AHP (Allied Health Professional) team based within the Hospice. The role evolved until her retirement as the Macmillan AHP Team Lead in May 2015.
June joined the board as a trustee for Wigan and Leigh Hospice in 2017.
Her favourite pastimes include reading, cooking, travel and snorkelling. She loves to spend precious time with family and grandchildren.
Sheila Fisher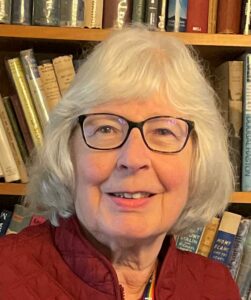 Sheila has enjoyed a varied and fulfilling career from the time of her graduation as a doctor in 1985; firstly, as a maxillofacial surgeon specialising in face and jaw cancer surgery and trauma, and later in clinical research and governance.
The former gave her an ever-increasing interest in people and how they responded to and coped with their diagnosis and treatment, often living with significant changes to their lives. For those whose therapy did not lead to a lasting cure, caring for them as they sought to 'live until they died' sparked an ongoing commitment to care in the period leading towards formal end of life support.
In 2010 she completed her PhD at the University of Leeds, studying the experiences of hand and neck cancer patients.
She moved to the Borough in 2019 and is a Licensed Lay Minister at St Wilfrid's Church, Standish.
In response to the call for volunteers she became a volunteer vaccinator at the COVID-19 vaccination hub at Robin Park with occasional school, care home and community sessions.
In her time off she enjoys walking her dogs, gardening, music and reading. Sheila became a trustee of the hospice in 2019.
Sharon Bruton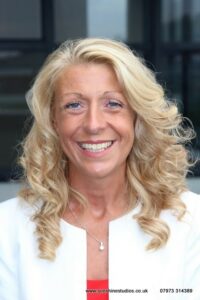 Sharon is the Chief Executive of a Schools Trust, providing education from age 3-19 in the North West of England.
She has worked in education for 30 years and has experience of partnership working with business to expand a national network.
A passionate advocate of unlocking people's potential Sharon has sought to deliver transformational development throughout her career, serving as a National Leader of Education, an Ofsted Inspector and an Associate Inspector for Her Majesties' Inspectorate of Schools and working with international groups.
She was Pearson's Digital Innovator of the Year 2019 and, in her commitments to the wider community, she has worked in networks for Wigan Local Authority, Liverpool Diocese, Greater Manchester and the Church of England Foundation for Educational Leadership.
Sharon has interests in early years' development, in promoting health and well-being, in coaching and delivering sustainable change management.
She volunteers on the Patient Participation Group at her local GP surgery and has been involved in the charity sector for ten years.  Sharon became a trustee of the hospice in December 2021.
Stephen Greenhalgh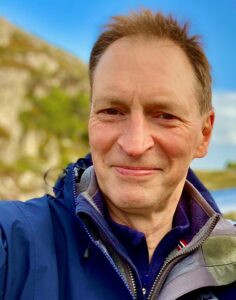 Stephen joined the board in December 2021. Prior to that, he was the Chief Executive of St Catherine's Hospice, Lancashire, from 2005-2020. He also represented North West hospices on the national body from 2010-13 and then served as a member of the Board of Hospice UK from 2013-2017.
He is currently completing a PhD with the University of Glasgow researching change and development in English hospices.
Stephen's earlier career included military service, mainly in Germany, as a troop commander on the Harrier Force and later as a military chaplain with the Royal Air Force. He has worked in the NHS and Local Government primarily in Community Development in some of the poorest areas of Lancashire and Cumbria.
Stephen has worked as a volunteer in different settings including as a school governor, a charity trustee and with various churches. Stephen's degrees are in Theology and Integrative Counselling. He also qualified as a commercial mediator.
Stephen enjoys walking - especially in the Hebrides - and keeping up with his children and grandchildren.
Andy Mortimer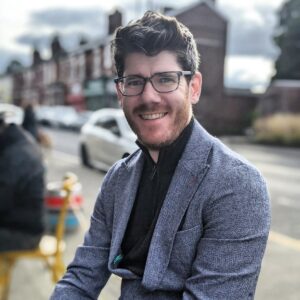 Andy Mortimer is Head of Communications at the Co-op's charity, the Co-operative Foundation.
He is a former journalist who started his career as a reporter and feature writer at the Hull Daily Mail. He took a career change aged 25 to move into charity communications and later held roles at Richard House Children's Hospice and the homelessness charity, St Mungo's, both in London.
Andy's final role in London saw him head up communications at YMCA England & Wales. During his time at YMCA, Andy led the award-winning mental health campaign, I Am Whole, and took learning from this into his current position at the Co-op Foundation where he is also campaign and research lead for the Lonely Not Alone campaign.
This is Andy's second trustee role and he has also volunteered as a befriender for the older persons' loneliness charity, Silverline.
He joined the board of trustees in December 2021.
Donna Whittaker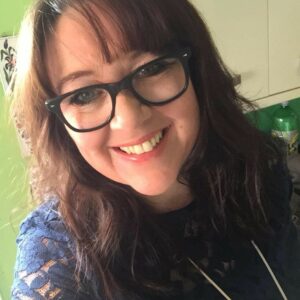 Donna is a resident of Wigan, and apart from a brief spell in Birmingham, has lived in Wigan all her life. She now lives very close to the Hospice in Hindley. She is married, with two grown up children.
Donna has spent her career in HR, and is currently Head of HR and Payroll for EG Group Ltd. She is responsible for 20,000 employees in the UK and ROI, and provides Group support to the Board.
Donna's first exposure to the work of the Hospice was in 1999 when her Mum spent four weeks being looked after before she died. Donna's mum benefitted from therapeutic support and her family from counselling. Donna and her family have supported the hospice since that time.
In 2019 Donna's best friend was looked after by the Hospice in your Home team, before she became an inpatient. It is this experience that resulted in Donna exploring ways in which she could provide more support and get more involved with the work of the Hospice.
In her spare time Donna likes to travel, hike and listen to live music.